Having a comfortable and cozy couch in your home is always a good choice. But with the passage and usage, the condition of the couch may not remain the same. By taking good care of cleaning and maintenance of your couch, you can increase its durability. Hence, hiring a professional and availing his service for couch cleaning can be a great solution to take care of your furniture. In this blog, we have discussed some Top Reasons To Hire A Professional Couch Cleaner.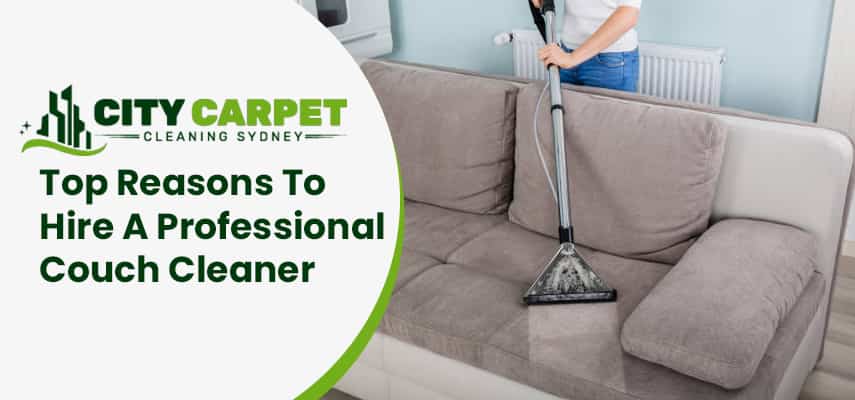 Here Are The Top Reasons To Hire A Professional Couch Cleaner:
1. Save Time
The major reason behind hiring a couch cleaner professional is that you save time and energy. Time is all about saving money. Moreover, you might not be aware of using the right method for your couch cleaning. Therefore, you need a professional for an everlasting look. Professionals make it easy for you to spot the problem and eradicate it within a few minutes. They also help you in calculating the number of services required for your couch cleaning. You might be unfamiliar with the cleaning tools hence it would be difficult for you to deal with the problem in order to remove it. Moreover, they know the modern techniques of cleaning so that they may provide efficient and speedy services to you to save you time.
2. Effective Services
Being professional couch cleaners, they are aware of all the nooks and crannies of the problems that arise while dealing with couch cleaning. According to the problems, a professional advises you with the best techniques and methodologies in order to give your couch a fresh look. The technique used by a professional would be more accurate and makes your work easier. Their experience in this field makes their task more effective.
3. Increase The Lifespan Of Your Couch
The couch present in your centre lobby is the most used upholstery present in your house. You may face daily wear and tear. Dirt and dust are the other major important factors that contribute to your furniture damage. Hence, this damage will provoke you to buy new within a short period of time. However, instead of purchasing a new couch, maintenance is the best solution in all aspects.
If you have a favourite heirloom chair or couch in your home, a professional cleaner will increase your lifespan. Furthermore, the services will be given as per the texture.
Professional couch cleaners use the right chemical to get rid of dust, stains, repair, and every aspect that contributes to giving a fresh look to your couch. Hence, the Top Reason to Hire A Professional Couch Cleaner is to prolong the lifespan of your couch.
Note: Cleaning your upholstery annually is the best way to enhance its lifespan.
4. Maintain Hygiene Conditions
Frequent usage of the sofa can make it dirty. Like any other upholstery, it may start producing a foul smell. Bacteria may produce a bad order in your furniture which is not fascinating. Hiring a professional cleaning agent will help you in getting rid of these unhygienic conditions and impart refreshing fragrances for your furniture.
Even if you use a regular vacuum cleaning machine, dust and antigens remain in the fabric of your couch. Dust is the basic promoter of antigens which causes Bedsole, and infections, hence, are the results of sensitivity. Therefore, the Top Reasons to Hire A Professional Couch Cleaner are that you want to keep your home hygienic and stay healthy.
5. Usage Of Advanced Cleaning Equipment
Professional cleaners are aware of all the sensitivities of the material that is used in your furniture and therefore the chemicals used by them are according to the material.
Each fabric requires different types of cleaning. Some fabrics require modern cleaning equipment or extra effort in order to clean couches. Cleaning your sofa by yourself is futile. Therefore, the Top Reason to Hire A Professional Couch Cleaner is that their experience and their techniques are unbeatable. They will make your sofa look refreshing and Spotless in regard to what it looked like earlier.
6. Convenience
Many people prefer to do couch cleaning on their own so that they can save money. Unfortunately with the lack of experience and tools, they may ruin the couch. Hiring a professional couch cleaner will ensure that your furniture is completely free from dirt, bacteria, foul odour, and dust. So, one of the Top Reasons to Hire A Professional Couch Cleaner is to have a refreshing look on your couch.
7. Ensure Safety
Another Top Reason to Hire A Professional Couch Cleaner is that they are highly concerned about the safety of your pets, kids, and furniture present in your house. They never put anything at your risk while giving couch cleaning services. This is the major reason that they use non-toxic chemicals in order to clean your furniture.
Sometimes while cleaning a couch on your main lead to wear and tear. You may rub the scrubber tightly over the couch or may apply inappropriate chemicals in order to clean it.
On the other end, professionals make sure that there are no pets and kids present in the house while using all the modern techniques.
Schedule Professional Couch-Cleaning Services For Your Couch
Cleaning upholstery might be a time-consuming task for you. Hiring a professional couch cleaner at your convenience can make your work easier. Above mention is the few Top Reasons to Hire A Professional Couch Cleaner. For the safety and benefits of your family and pets, it is important to hire professional service. So, feel free to contact a nearby couch cleaning company and avail the best service. You can hire City carpet cleaning company for best services of Upholstery cleaning in Sydney and nearby.